Author: Cindy Bokma
I have been on many trips where I ended up lamenting over poorly fitting shoes. The worst time was in New York City as I strolled for miles in cheap shoes and ended up covering my blistered feet in band-aids and was forced to wear flip flops for the rest of the trip. Due to zero support, ill-fitting sandals or sneakers, I have purchased new shoes in several cities across the US due to my poor planning and bad shoe choices.
I used to laugh a little at the typical tourist look, you know- the backpack, camera around the neck, the sun hat, and sturdy shoes. Now I see it's all about practicality and comfort when traveling! Get yourself some sturdy shoes and save yourself pinched toes, blisters, and sore feet. You want to find the most comfortable shoes for travel and walking when away from home so you don't suffer from blisters or shin splints.
If I don't have the correct support, I will end up with terrible back and hip pain which ruins a few precious days of a trip.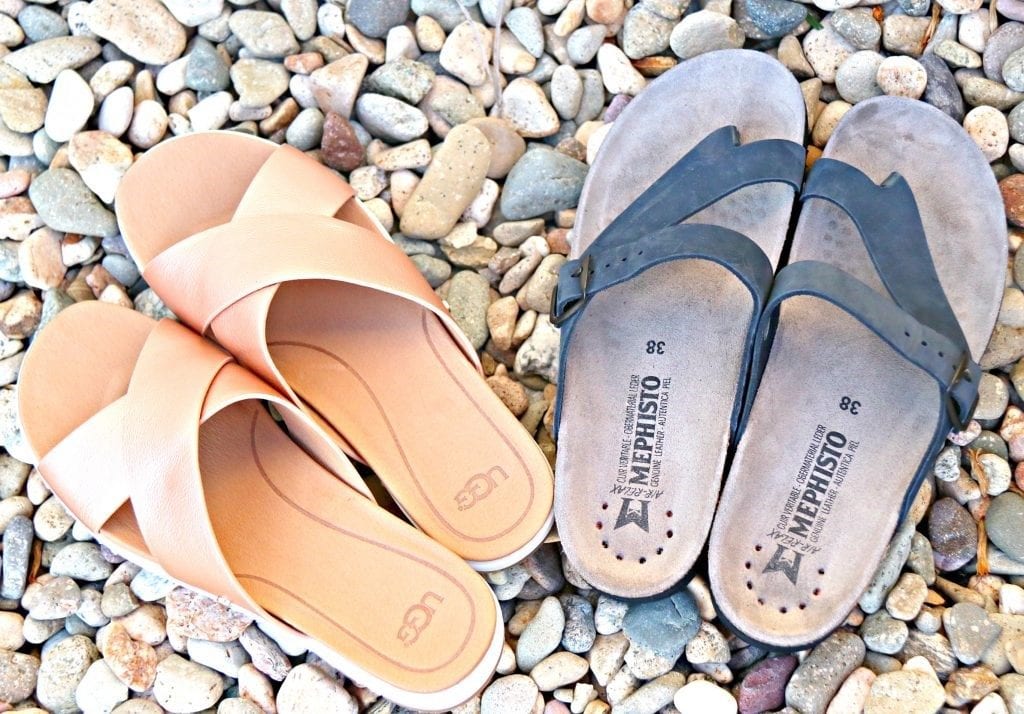 Travel is a frequent topic of conversation and I have been asked for recommendations on shoes that can withstand hours of adventures around the world. Typically, if you are vacationing you will walk more than usual and wearing excellent shoes are a make or break for a good day.
As you explore the cobblestoned streets of England, stroll through the vineyards of Tuscany or climb to the top of the Statue of Liberty, you want your feet to be cushioned and have your back and hips receive support.
I have wear-tested these shoes and am excited to share my top picks for shoes that will stand up to long days of walking and exploring.
Mephisto
Mephisto has been around since 1965 and received a patent for its unique footwear manufacturing method in 1973. Since then, this company has perfected its technology which has earned them countless awards. I tell you this backstory so you know that this brand is A+ when it comes to comfort and support. If you try on a pair of cheaply made shoes then try on these, the difference is night and day.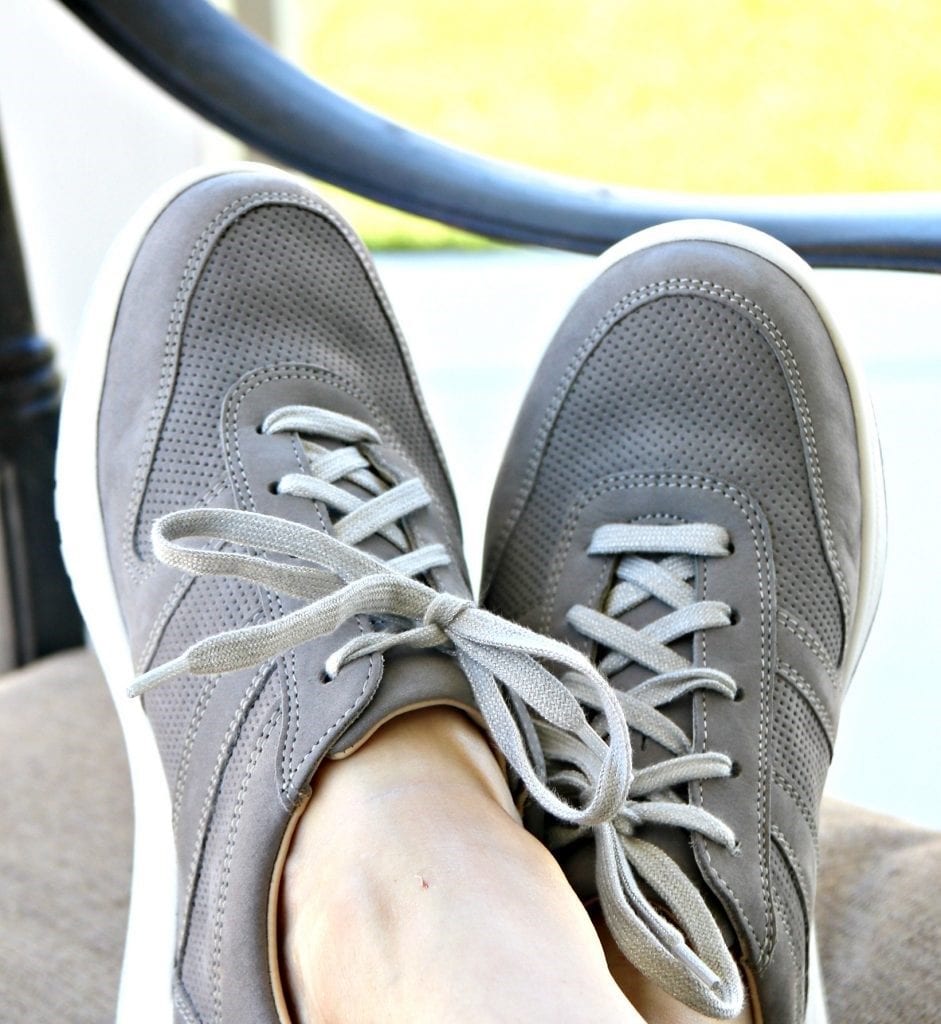 In short, "the flexible, permanently elastic and extremely soft SOFT-AIR midsole reduces the shock from walking to an absolute minimum.

This relieves the joints, vertebrae and the spine – it is like walking on a soft carpet of moss, making you feel fit and full of energy even after many hours of wear."
I walked for miles in Mephisto sandals and in the shoes, I can attest to the relief in my joints and zero pain in my feet or bones.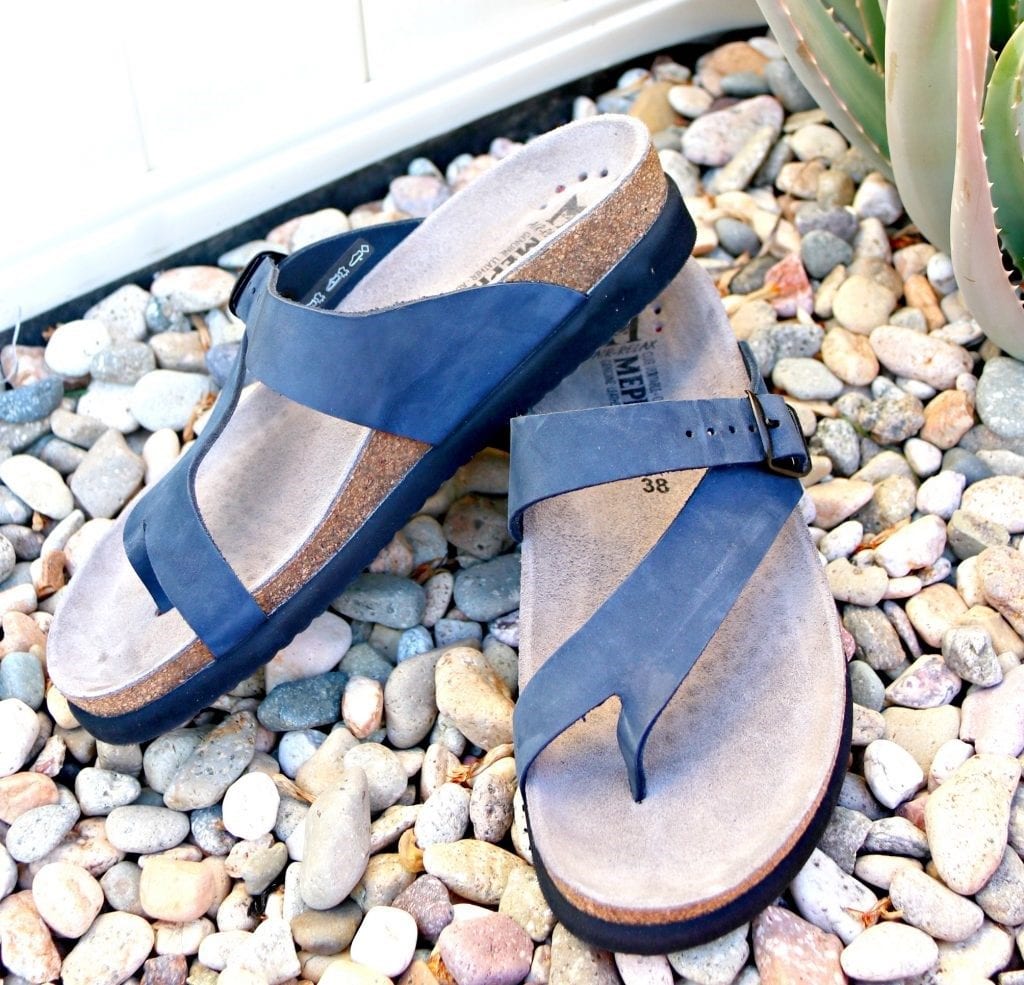 The Helen Sandals are probably the most comfortable shoes I have ever worn, they give support in all the areas I need it most. If you are looking for a sandal that will be worn for years to come, this is not only well made but perfect for lots of walking. You can adjust the strap on the sandal for a loose or tight fit. I wear a 7.5 shoe size and these fit well with a little bit of room in case my feet swell.
The Rebeca Perf offers the same technology but in a sneaker form. These are an excellent choice for walking and light hiking, they cover the foot with soft nubuck and give your foot a nice cushion. These fit true to size. I like the style because it goes well with a lot and it's not flashy and decorative. There are lots of styles to choose from and they all offer that great support.
Vionic
Here's another terrific shoe brand that I can wholeheartedly recommend. A few years ago, I went to one of those stores that help you find your best-fitted shoes for your foot and Vionics were recommended. I also have friends who raved about the Vionic flip- flips. So it was natural for me to want to see how these held up to the rigors of walking for miles and miles.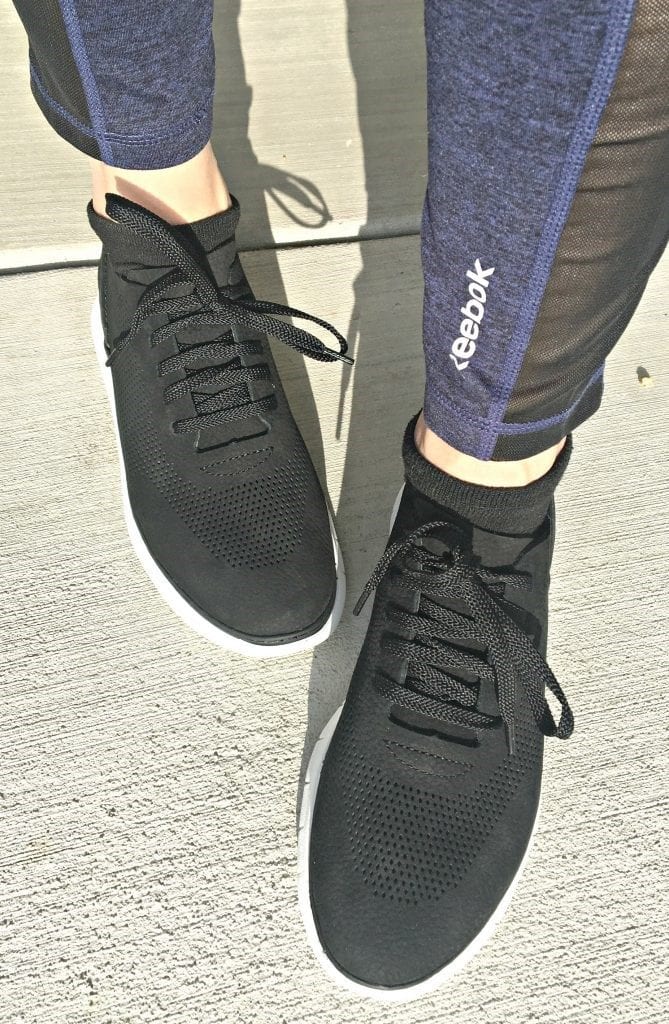 This brand features biomechanical technology that stabilizes and comforts the foot as well as an orthotic footbed. When I wear these, I feel as though my arches and heel are cupped and supported.
The Joey Casual Sneaker is what I have been wearing and loving, the sneaker is very soft and well made. My back and hips never hurt when I wear them for hours and many, many miles. The material is perforated nubuck. The footbed contains memory foam and offers the ortho-heel technology which supports the joints of the body.
They are not clunky or thick, don't have any huge logos on them, pair well with jeans or workout clothes. They fit true to size. My feet are on the narrow side and these are perfect.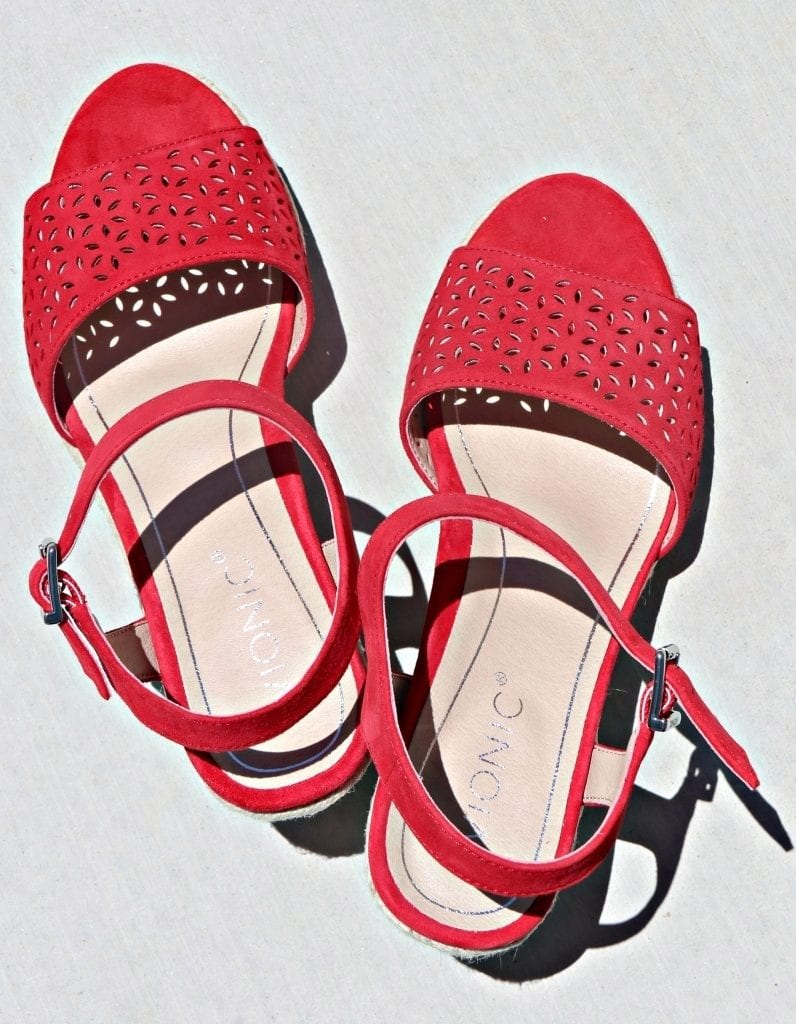 The Ariel Wedge Sandal is a great choice for a dressier outfit, for when you might take an evening stroll to dinner and want to dress up. I wouldn't walk ten miles in this shoe, but you certainly could if you had to! This is my go-to shoe for wearing a skirt or dress.
This sandal offers the same technology in a pretty shoe with a wedge heel and is the first dressy sandal that I didn't want to take off. Typically sandals like this are not comfy but since this one is made well with support, I can wear them for hours though they are three inches tall.
Vionic offers a variety of sizes and wide widths, they have many styles to choose from too. I am curious about their clogs which are always ideal to wear with jeans. That might be my next purchase!
UGG
Many people are familiar with UGGs thanks to their iconic boots that were created back in the late 1970's. It was a surfer who founded the company and by the '80s, they were a hit among Californians for their comfort and laid back style.
Did you know that UGG now offers much more than those sheepskin lined boots? They started with boots and slippers but now include sandals, slides, sneakers, loafers and even products for the home.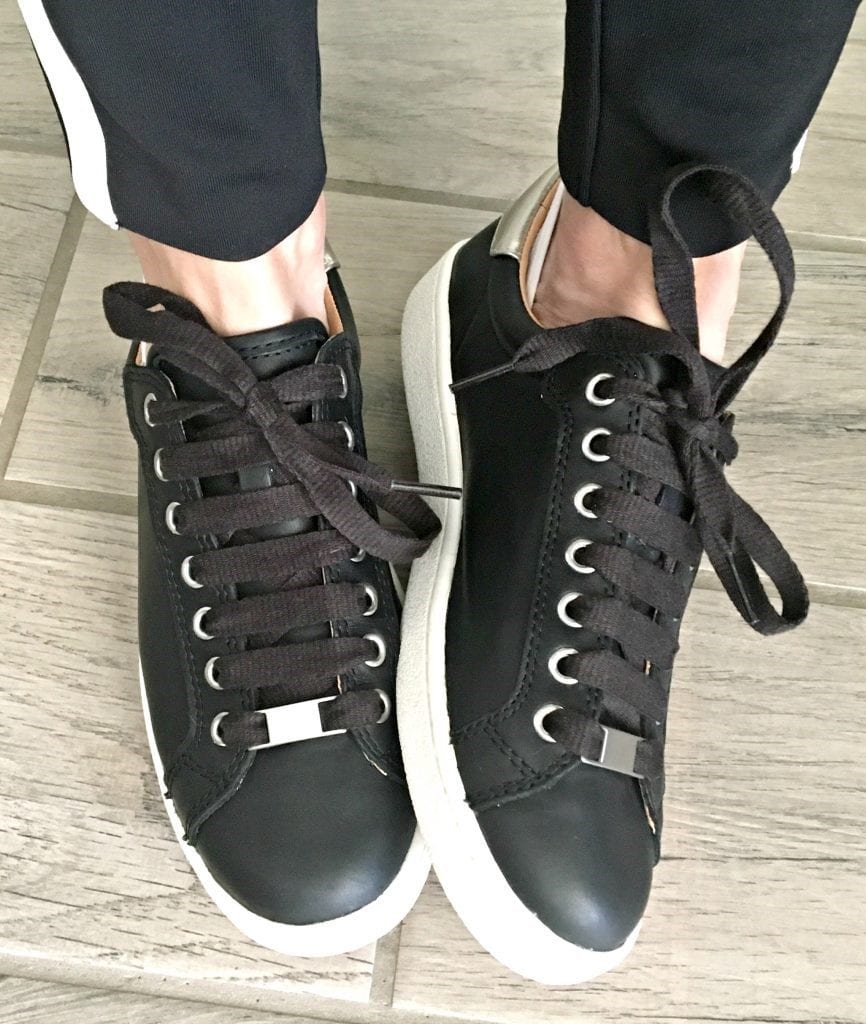 Because UGGs are made well and known to be very comfortable, I gave the Milo Sneaker a try to see how they held up for walking, a light hike, and standing.
They are made from leather and feature cushioned insoles with leather inside.
These sneakers are lined with EVA and PORON technology insoles. EVA stands for ethel vinyl acetate which is foam material made from thousands of small bubbles that hold air. The bubbles provide cushioning and shock absorption for the feet. They also have Poron which is a material that gives lightweight cushioning and support.
It took me a little while to break these in, now they are very comfortable and I like that they are sturdy. They are what I'd consider fashion sneakers and are ideal for shorter excursions/walks where you need a sturdy shoe like on cobblestone streets or a walking tour. They fit completely true to size and are slightly narrow.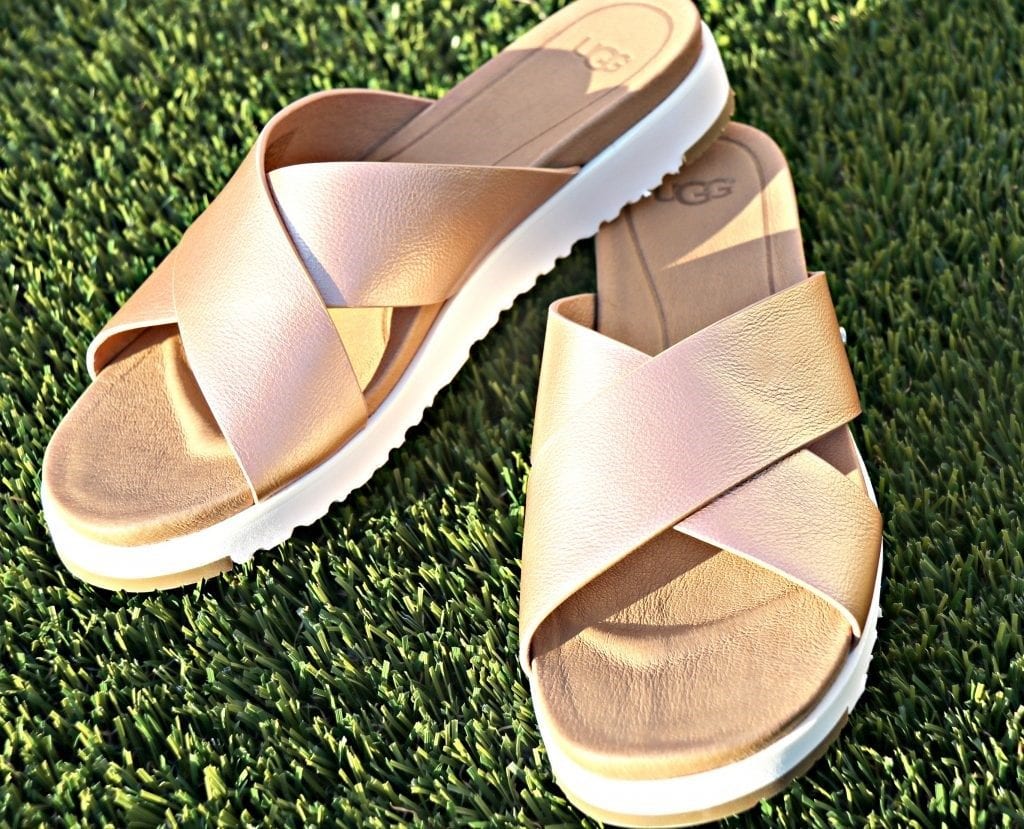 If you are looking for a sandal, the Kari Metallic Sandal offers comfort and support but is dressier than a sneaker. They have an UGG™ insole with leather lining and Treadlite by UGG™ outsole with rubber toe and heel.
I love these sandals for the fact they are not only pretty but offer much better support than any other sandal I own. If you are spending the day on your feet, these will give good support with the cushioned insole. The leather is soft, no blisters here.
The Kari sandal is ideal for short walks or being on your feet for a few hours at a time. True to size but like the Milo sneaker, they are on the narrow side.
New Balance
If you are looking for a true athletic sneaker with support, here you go. For a day of travel and exploring in a variety of settings, you can't beat New Balance.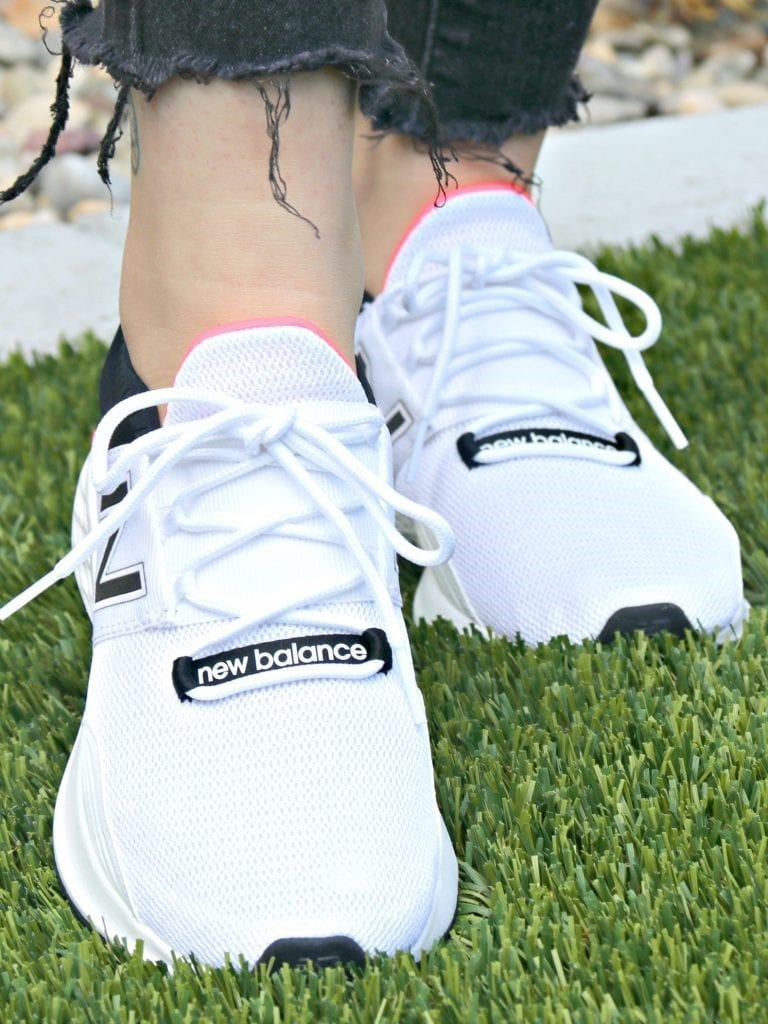 I tested the style 997H and the Fresh Foam Roav Running Shoes, I was was not disappointed. These very sturdy sneakers work for running, walking, light hiking can be worn all day and feet will be completely supported.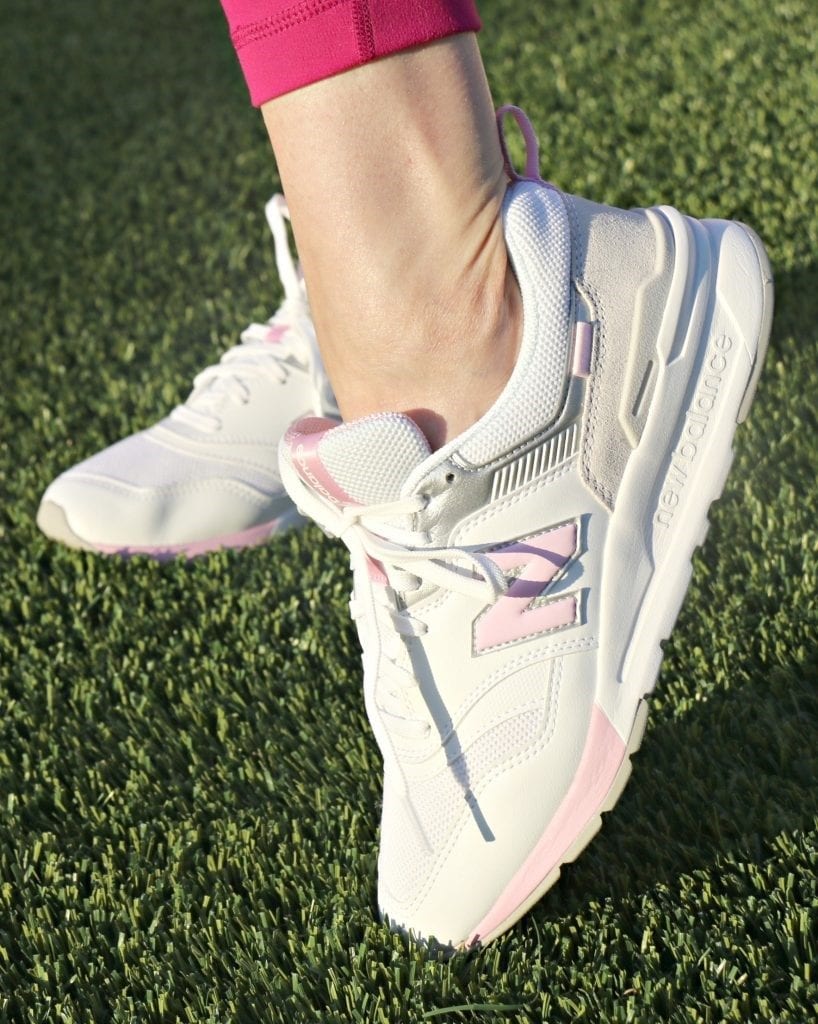 The core of the shoe, on the inside, is softly cushioned, the outside sole is rubber which works well for traction on slippery and uneven surfaces. These run true to size although the Fresh Foam Running Shoes were slightly wide for my narrow foot but still fit me. I like my running shoes to have a little room in case of feet swell in the heat or from standing or walking all day.
New Balance offers better support than some other sneaker brands I have tried and I always recommend them.
Final Thoughts
🌟 Wear new shoes before your trip so you can break them in.
🌟 Invest in at least one pair of well made, sturdy pair of shoes. You can alternate between shoes but make sure you have a pair that will support your arches, heels, toes, comfortably.
🌟 Darker shoe colors will hide dirt.
🌟 You can clean your white leather shoes with a makeup wipe or Clorox wipe.
🌟 Shop for shoes in the afternoon when feet have expanded so you get a proper fit.
🌟 Make sure you try on shoes with the socks you are going to wear with them.
🌟 Different shoe brands run slighter larger or smaller, the ones mentioned here are true to size.
🌟 When shopping for shoes, look for the following: flexibility, cushioning, arch support, the thickness of the bottom sole. I love TOMS shoes for example but the sole is very thin. They are great to wear on a plane or a light walk, but not the best pick for a serious hike or being on your feet all day.
🌟 Consider buying orthotics and changing them in and out of shoes as needed.
🌟 If you are spending the day on an excursion and doing a lot of walking, slip a pair of flip flops into your backpack in case your feet swell or you get blisters.
🌟 Always bring bandaids. Have a few in your purse or backpack at all times.
I feel confident that you will find the right shoe for you from the above recommendations! Happy walking everyone and discovering that comfortable shoes and happy feet will make the experience more Always5Star! 🌟🌟🌟🌟🌟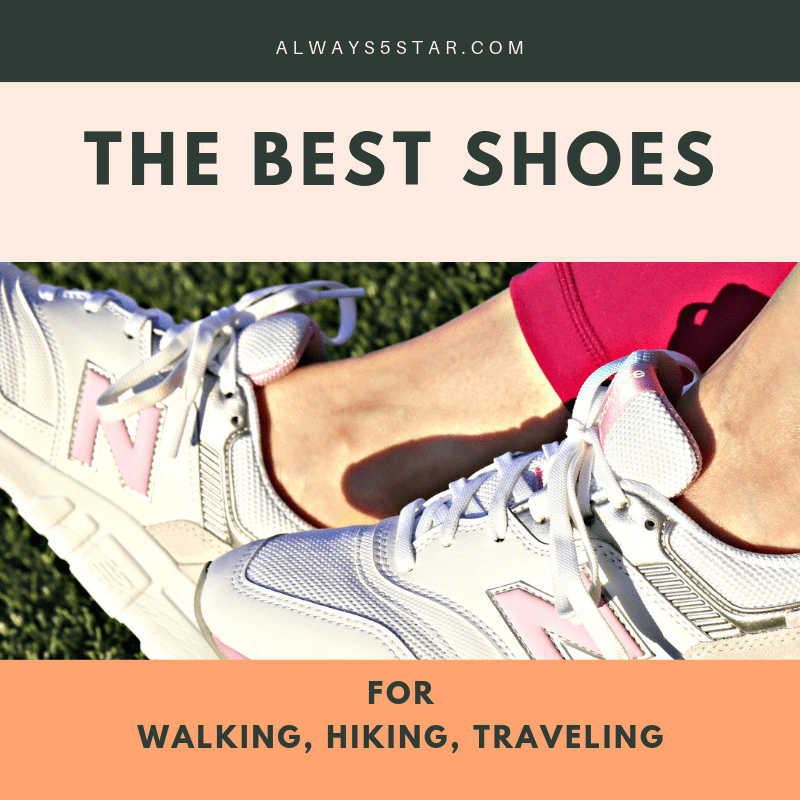 Please note that this was a sponsored opportunity to review the shoes mentioned in this article. Cindy Bokma will receive compensation for links used in this article for purchasing shoes.
---
---
About Pamela Rossi

I am passionate about travel and taking each moment and making it a five star experience. My goal is to create those experiences for YOU!